Islamorada Fishing Charter
What can you expect from an Islamorada fishing charter?
First of all, the term "Islamorada fishing charter" actually encompasses several general categories of different fishing trips: Islamorada fishing charters–back country, Islamorada fishing charters–reef, and Islamorada fishing charters–offshore. Many operators choose one specialty, or even a sub-specialty, own a boat suited to that specialty, and take mostly fishing trips within that specialty. Other operators are more generalized.
Ultimate Dream Fishing Adventures would be one of the most generalized, as Capt. Scott Bannerot employs his 20-foot Seacraft Superfisherman everywhere from Islamorada fishing charters–offshore, to Islamorada fishing charters–reef, and all the way west into Florida Bay, the Everglades, and Cape Sable areas on Islamorada fishing charters—back country. Let's have a look at some of what his clients experience on these assorted adventures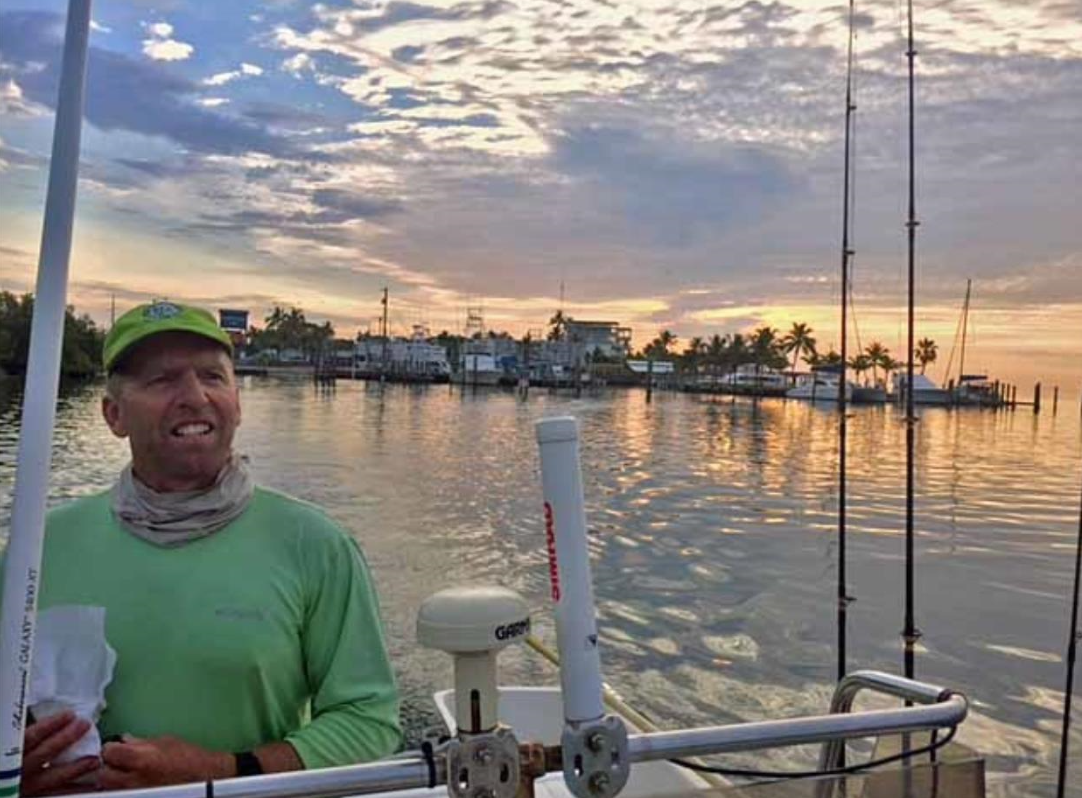 Islamorada Fishing Charters – Reef
The Florida Reef Tract is a three to four-mile wide shallow (less than 30 feet deep) calcium carbonate platform that runs first in a northeast to southwest arc, and further down east to west line, approximately 160 miles from Fowey Light off of Miami and Biscayne Bay, all the way to Sand Key Light just southwest of Key West.
The raised backbone of the Florida Keys themselves form the western/northern border of the reef tract, while offshore about 3 ½ miles mostly the shallow platform gives way to a 40 to 65 foot band of reef, which then drops fairly abruptly to 80 to 120 feet. This is the eastern/southern margin of the reef tract. Departing from Islamorada, we have access to the myriad reefs offshore of Key Largo, the Islamorada area, and south towards Long Key and Duck Key.
 We can fish patch reefs starting a mile from shore, out to near the drop-off 3 ½ miles out; we can fish the drop-off itself, either the shallower portions in 40-70 feet, or out along the deeper sections, from 70-110 feet depth or so. There also deeper ledges and wrecks lying out beyond the drop-off, from 80 to 300 feet deep or more.
Approximately 500 species of fish associate with the subtropical and tropical waters of the Florida Reef Tract, so it is no surprise that the potential number of species one can catch on an Islamorada fishing charter–reef is large.
Hogfish, snappers (yellowtail, mangrove, mutton, cubera, dog, mahogany, vermilion, yelloweye, blackfin, red, queen, and schoolmaster), groupers (gag, black, red, Nassau, goliath, scamp, yellowmouth, strawberry, red hind, speckled hind, snowy, misty, for example), porgies and grunts (assorted species), mackerels (king, cero, Spanish), sharks (hammerhead, bull, lemon, Atlantic sharpnose, dusky, silky, tiger, reef, blacktip, and many others) sailfish, wahoo, numerous species of jacks (permit, amberjack, almaco jack, blue runner, rainbow runner, yellow jack, bar jack, jack crevalle, horse-eye jack, black jack), bonito, blackfin tuna, cobia, barracuda…and numerous other species can pop up too.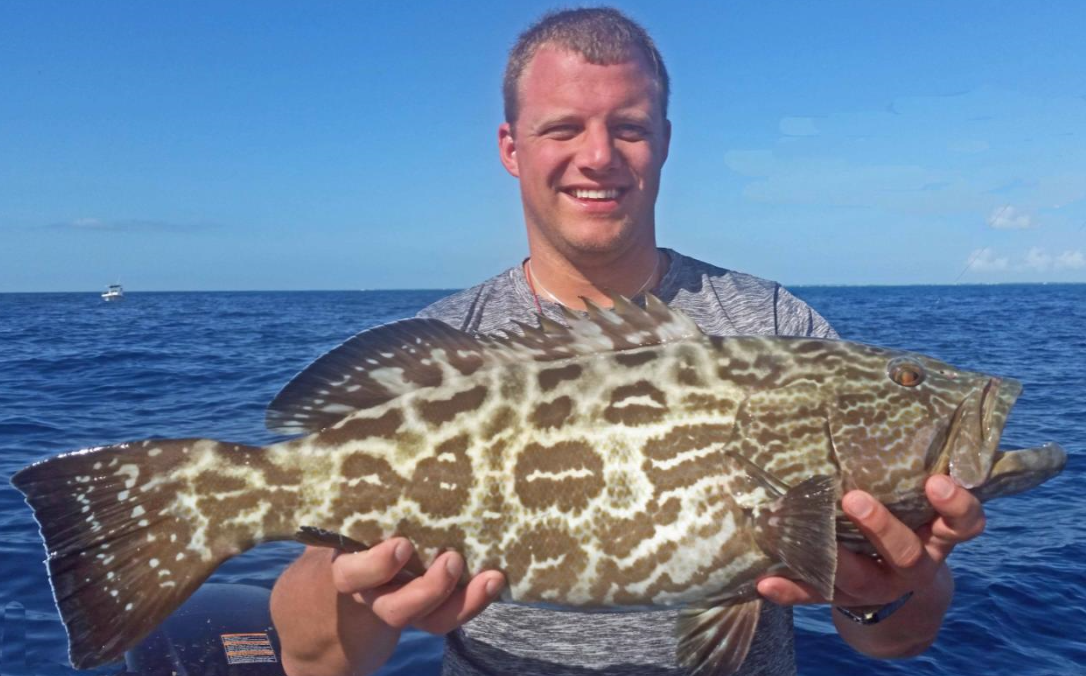 By and large, though, we target specific species and sizes with very specific locations and techniques. One common example is to anchor along the deeper edges of the drop-off, often in 65 to 110 feet, chum, and freeline baits back in the current for yellowtail snapper. A heavier bottom rod for mutton snappers or groupers might present a live pinfish or other bait close to the seafloor. A flatline or kite bait may offer a pilchard, cigar minnow, ballyhoo, or small blue runner near the surface for sailfish, king or cero mackerel, blackfin tuna, or wahoo. We also catch mahimahi occasionally along the reef. Another strategy would be to anchor on a patch reef in 16 to 25 foot depths, with a similar array of baits, for mangrove snappers, mutton snappers, red and black groupers, cero mackerel, smaller yellowtail snappers, big barracuda. Fishing live shrimp on the bottom garners hogfish and porgies. We also do different specialty trips, fishing live crabs for permit on the wrecks, and even targeting huge cubera snappers at night. Advantages to Islamorada fishing charters–reef are that the ride to the fishing spots is generally quite brief, the sea conditions are often calmer than further offshore, and the color, variety, and eating quality of the fish are all high. For kids and adults alike, it can also be an inspirational lesson in tropical marine biology.
Islamorada Fishing Charters – Offshore
The term "Islamorada fishing charters–offshore" generally refers to fishing trips out beyond the reef drop-off, into the blue waters of the Florida Straits, a relatively narrow corridor of ocean between the Florida Reef Tract and the Bahamas through which the Gulf Stream courses northward.
Historically these waters provide a migratory pathway and food pipeline for ocean-going predators like blue marlin, white marlin, longbill spearfish, sailfish, swordfish, wahoo, giant bluefin tuna, yellowfin tuna, blackfin tuna, skipjack tuna, bonito, wahoo, king mackerel, dolphin or mahimahi, cobia, numerous pelagic sharks. In the darkened depths, ledges, breaks, ridges, and seamounts hold amberjack, rudderfish, deepwater snappers, groupers, and tilefishes…a host of species harvested by using electric reels and deep-drop rods.
Otherwise the primary Islamorada fishing charter–offshore targets are mahimahi (April to August), blackfin tuna (September and October), and sailfish, king mackerel, and wahoo (November to March). We range furthest offshore on mahimahi forays, up to 30 miles out or so as needed, and stay closest looking for sailfish (usually 6 miles offshore or closer). We target blackfin tuna at local seamounts, 11 to 19 miles out, and sometimes closer in near deeper wrecks and contours within 5 to 7 miles of shore. Specialty trips targeting broadbill swordfish in daytime have become common, dropping baits in 1500 to 1800 feet of water on mostly electric reels set up to catch fish as big as 700 lbs or more. We catch occasional blue and white marlin, usually while fishing for mahimahi, but it's fair to say that our consistent offshore target species beyond bottom fish are mahimahi, sailfish, wahoo, swordfish, blackfin and skipjack tuna, and king mackerel.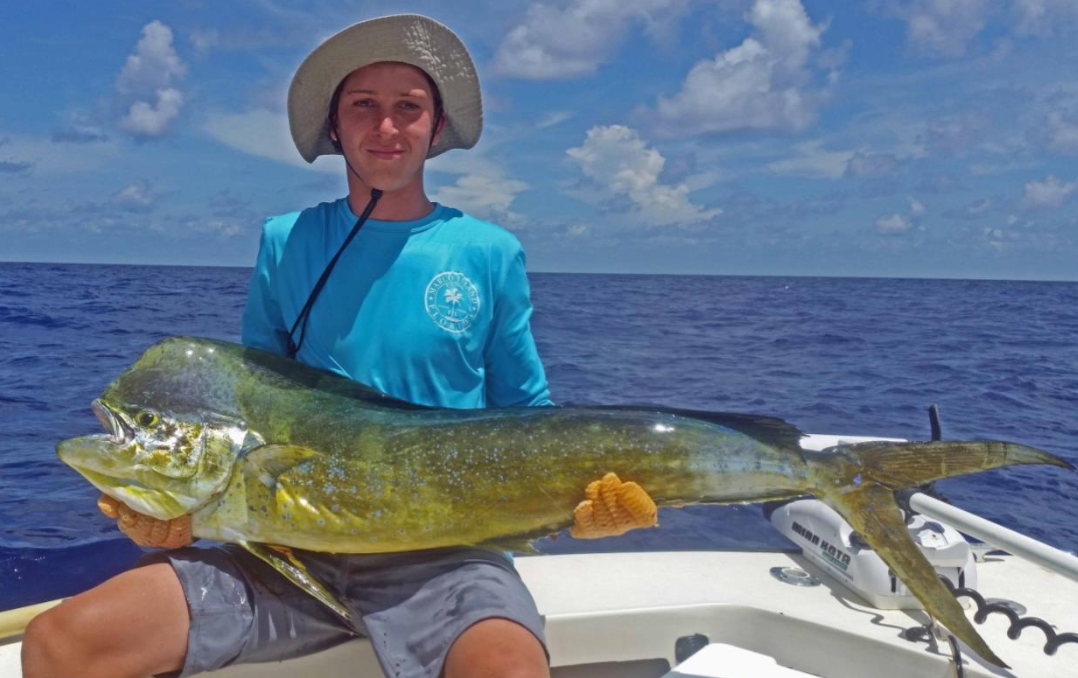 Modern-day mahimahi trips more often employ a "run and gun" strategy. That is, captains search at high lure speed or more looking for signs of fish. These include certain species of seabirds behaving in specific ways; any sort of floating debris like a ship's hawser, pallet, tree, bucket, sticks, weed patches; developed Sargasso weed lines indicative of current shear; current rips and areas of broken bottom; and other oceanic features. We then slow down or stop and "work" the feature, by sight casting live baits, dead baits, or assorted lures. We may then troll the feature, either slowly with live baits, or at greater speeds with lures, rigged natural baits, or lure-bait combinations.
Upon hooking one mahimahi, we immediately cast baits behind and around the hooked fish seeking its schoolmates. Where there is one mahimahi there are almost always more, particularly in the case of smaller individuals ("schoolies"). 
We always have a blue marlin rig handy during all of this, because occasionally blues will crash the mahimahi party or come swinging in to the baits. At other times, we may spot a blue and have the opportunity to sight cast or otherwise present a live or dead bait. For example, a 120-pound blue came racing up to a live cigar minnow being presented to some mahimahi last June, and we eventually persuaded it to eat. Angler Bob Kilpatrick got the release on this fish after a wild 3 hour battle on spinning tackle. A video of part of this fight appears elsewhere on this website.
Sailfishing strategy in the winter months is in many ways the opposite of mahimahi strategy. Rather than running all over the place looking for signs, we tend more to slow-trolling or power drifting live baits, presented either straight-up trolling with flatlines and outriggers, or using a fishing kite (an "uprigger", if you will). We'll work these live baits over very specific breaks, points, walls, contours, and wrecks which tend to hold groups of sailfish year after year.
While we are doing this, we are constantly scanning for "bait showers", where groups of sailfish swoop in to the shallows to race after schools of ballyhoo, causing them to greyhound en masse as they try to escape the racing predators. We pull in the trolled baits and race to the action ourselves, baiting up as we go, and then sight-casting baits to the easily-visible black-purple sails, often swimming over white sandy bottom in 25 feet or less depth.
Needless to say, one would be hard-pressed to conjure a more exciting sport fishing experience than sight casting to one of these beautiful fish, having it accelerate, flare up behind your bait, and grab it, sinking slowly, crushing it, turning it, and swallowing it as you nervously count to "10 one thousand" before winding quickly, and getting tension, which drives the razor-sharp circle hook firmly into the corner of the bony jaw. Then pandemonium ensues…wild, twisting leaps, greyhounding, and blistering runs, followed by deep, strong surges.
Targeting other wintertime fish can be similar to sailfishing, for example slow-trolling surface and deep live baits on light wire leaders for king mackerel or wahoo around specific topography or structure. Another method is to anchor up and chum, free-lining live baits back, for example cigar minnows or pilchards, or whole live shrimp, either plain or on jigheads. Larger kings and wahoo are susceptible to bigger, more robust live baits like mackerel scad (locally called "speedos"). Oftentimes boats will run one deep line with a wire leader while running two or three lines near the surface for sailfish.
Lastly boats strictly targeting wahoo may choose to troll high-speed lures, like various jetheads, or intermediate-speed lures, like Nomad DTX Minnows, around contours known to hold these coastal pelagic migratory predators.
At in-between times of the year, like September and October, we mentioned targeting blackfin tuna. One common way to do this is to troll smaller plastic skirts around the local seamounts or in the vicinity of indicative bird activity. This also catches skipjack tuna, bonito, and mahimahi, and the occasional sailfish. Another method, one which tends to catch the larger individuals, is to slow-troll or power drift with live pilchards, cigar minnows, or ballyhoo, sometimes with the help of live-bait teasers or live baits for chum. Sharks are often fierce around the seamounts, so if you ever dreamed of doing battle with big bluewater sharks, these are the places to do it.
Islamorada Fishing Charters – Back Country
Islamorada fishing charters–back country can really begin just after leaving the dock, or we might ride 32 miles back to Cape Sable before we wet a line. It all depends on what you would like to target. From March to August, we have very consistent fishing for tarpon near the bridges of the Florida Keys, from Whale Harbor all the way to Key West.
We also have a migratory group of tarpon along western Florida Bay and the Cape Sable area beaches that remains through August. On top of that, we do have tarpon in various places and settings all year round, so that by playing very specific conditions one can have a great tarpon experience even when it's not "tarpon season." We also target bonefish and permit. But not everyone wants to swing for the fence on their outing.
Many just want to ride out through maze of grass flats and channels of Florida Bay, watch emerald-green Atlantic tidal water give way to the crystal clear waters of the mid-back country, and then to the super-productive, more opaque hues of Gulf tidal waters coursing past Cape Sable and into the labyrinth of channels, islands, mangrove shorelines, flats, holes, and sloughs of the Flamingo area, a fishing neighborhood that is the stuff of legends.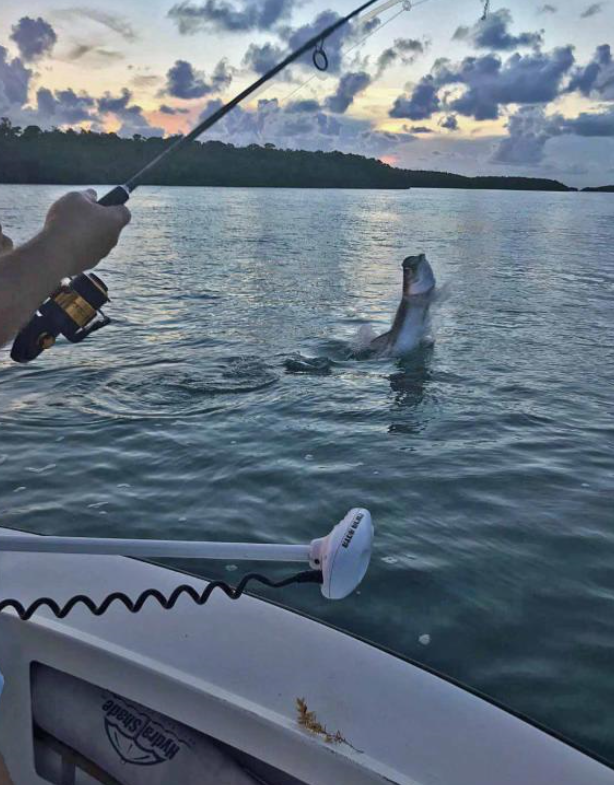 These anglers want lots of action and variety, calm water and pleasant conditions, and the variety of beautiful wading birds, bottlenose dolphin herding mullet in the shallows, crocodiles, sea turtles, manatees, and big sharks, rays, and sawfish in shallow water never fail to thrill people of all ages. Here we target snook, redfish, spotted seatrout, mangrove snappers, black drum, ladyfish, jack crevalle, sharks, tarpon and other species. Light tackle makes it even more fun. These fish can produce stellar catches all year long, and as presence and abundance of different species varies, we adjust strategy and location to target what our clients want to catch.
That's not all, however. We also fish the more open waters of the nearby Gulf of Mexico for Spanish mackerel (November to March, but year round at selected times and locations), mangrove snappers, smaller groupers (gag, black, red), goliath groupers (from small to 600 pounds-plus), bluefish, ladyfish, blue runners, jack crevalle, mutton snappers, yellowtail snappers, lane snappers, cobia, big sharks (spinner, blacknose, Atlantic sharpnose, blacktip, hammerhead, tiger, lemon, bull, nurse, and others), tarpon, permit, tripletail, Florida pompano, and in the midst of all of this we catch numerous other species. A red-hot bite of Spanish mackerel is really something to experience on our lightest tackle. These fish are lightning fast and strong, hit like freight trains, and have provided many of our anglers with an action-packed introduction to salt water fly fishing. More often than not the spinner sharks move in, and when we put the shark baits out it's game on. Spinners are super-fast, and they leap and cartwheel like a tarpon on steroids. They're a bona fide super gamefish on light tackle and many anglers love to catch them.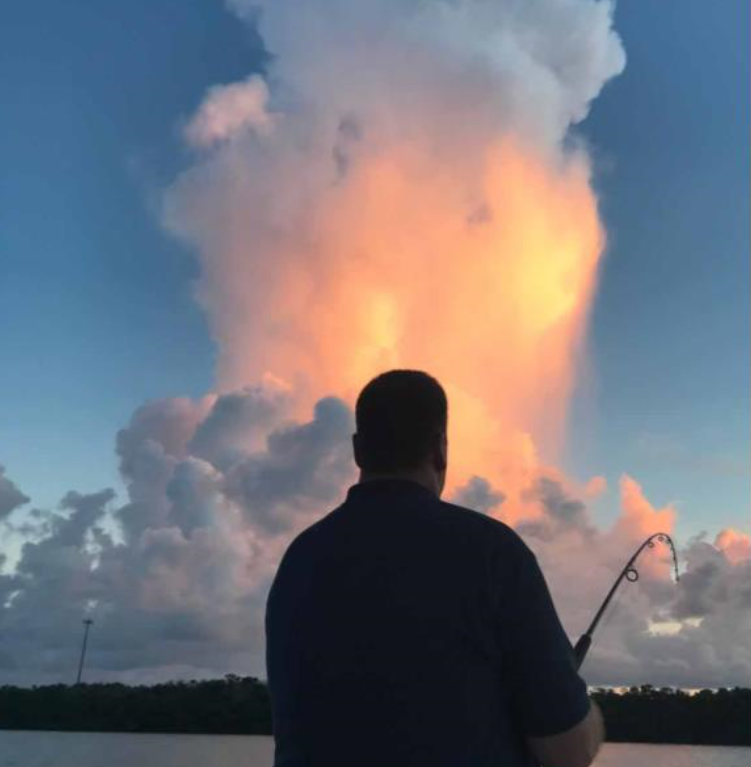 One of the overwhelming advantages to taking an Islamorada fishing charter is the unique array of options available out of this port. Ultimate Dream Fishing Adventures offers you the opportunity of doing it all out of one boat, and one standard cost…rather than, for example, forking out double the amount to fish offshore on one of the big boats (of course, it is nice to go inside and cool off in an air-conditioned salon!). Another thing people comment on frequently is they enjoy doing their own casting, hooking, and fish fighting, rather than having a mate do most of it first and then hand them the rod.
On Ultimate Dream, you definitely have the opportunity to do it all yourself, except of course in specific situations where you'd like a little help. We have the flexibility to adjust trips to conditions. If it's windy and rough out on the ocean side, we simply shoot far back into the protected areas of the Everglades and fish in comfort. So whether you choose an Islamorada fishing charter–reef, Islamorada fishing charter–offshore, or an Islamorada fishing charter—back country, we do them all.
Many customers book multiple days, and schedule to try all of the different options during their stay. We have also been known to do an Islamorada fishing charter–reef for a couple of hours, and then run back to Florida Bay or the Gulf of Mexico and finish out the day fishing back there, all in the same trip.
Capt. Scott Bannerot
P.O. Box 880
Tavernier, FL 33070
Post Card Inn Marina
Backcountry Dock
84001 Overseas Highway
Islamorada, FL 33036