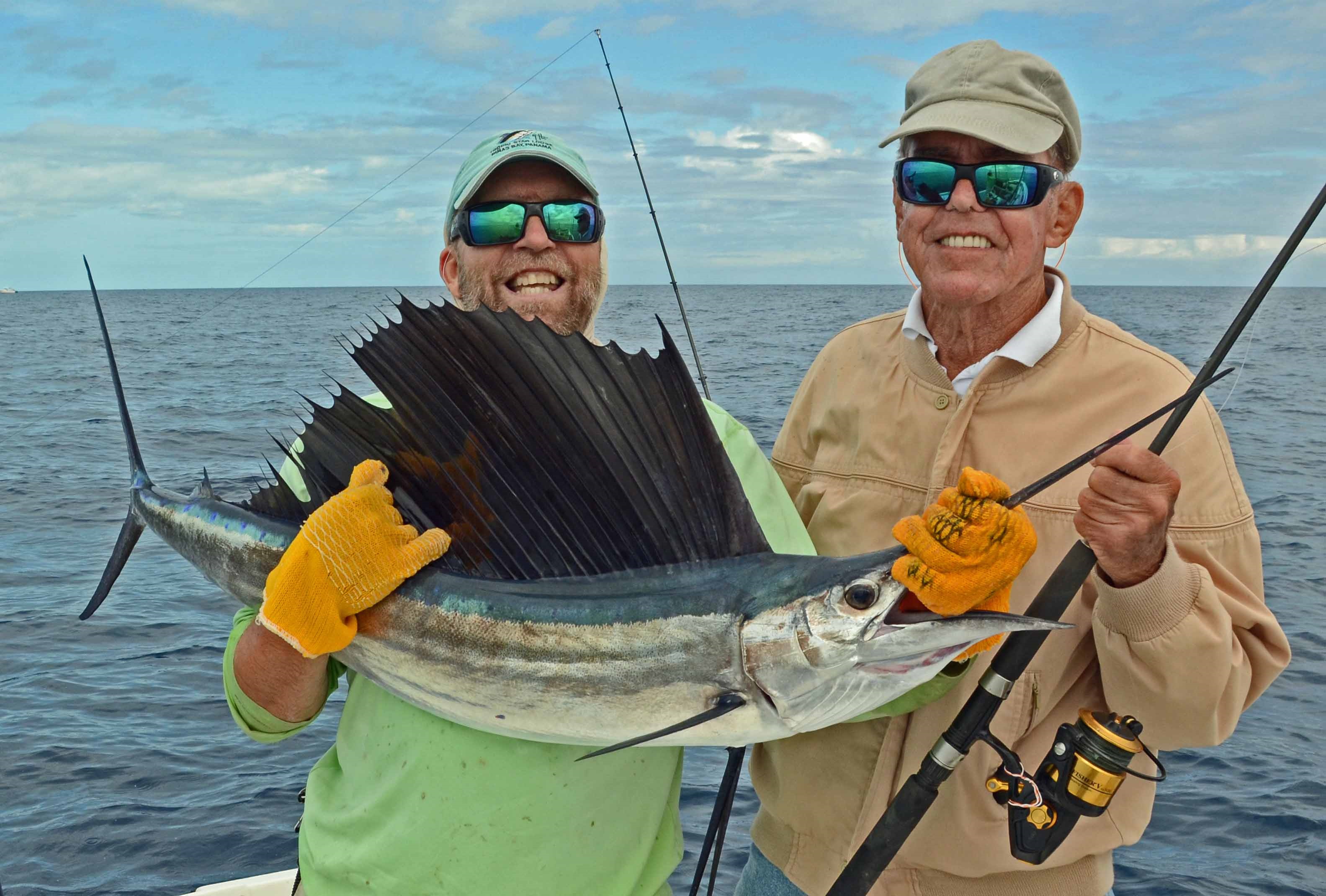 "Offshore" means going out in an easterly direction from the marina, across the 3.5 mile-wide platform of the Florida Reef Tract, and into the Straits of Florida.
Here the warm blue waters of the Gulf Stream swirl in a northeasterly direction between the Florida Keys and Bahamas, the edge of the current anywhere from just off of the reef drop-off to over 20 miles out. Inside the Gulf Stream, the water may be more greenish, and the current eddies and runs in assorted directions. During winter, primary targets are sailfish, king mackerel, and blackfin tuna.
During spring and summer, migrating dolphin, or mahimahi, pour through and support a very popular sport fishery. Scattered blue marlin and white marlin make appearances behind baits and spreads out in the blue.
Year round from the reef edge to deeper areas we target yellowtail, mangrove, mutton and a variety of deeper-dwelling snapper species (vermilion, yelloweye, blackfin, queen, and others), and black, gag, and red groupers (and snowy, misty, speckled hind and other deep groupers).
Swordfish are common on the shelf edge from 1300 to 1800 feet. At the other extreme, patches of coral dot the reef tract platform shallows from shore to the drop-off, providing excellent light tackle action for porgies, hogfish, mangrove, mutton, and lane snappers, gag, black, and red groupers, and cero mackerel.
Various other light tackle game targets range broadly, for example barracuda, from the deeper reef edges and lighthouses to the shallows and in to Florida Bay.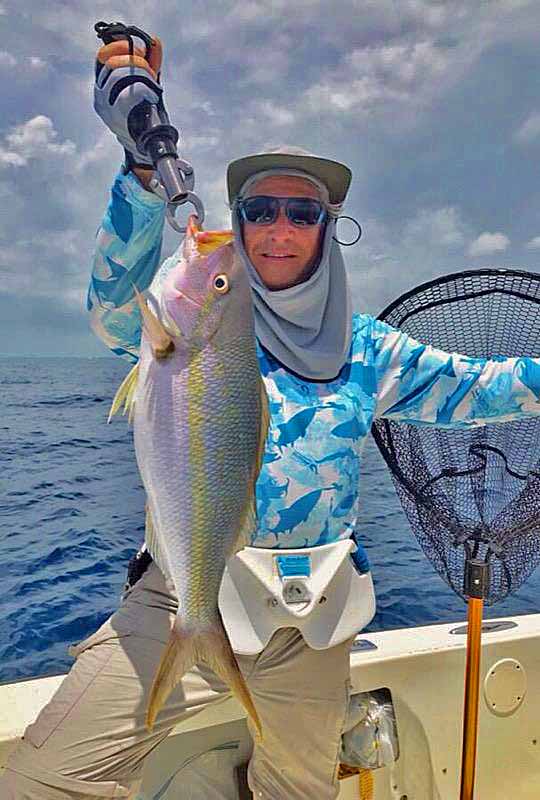 Backcountry Fishing – What to Bring
Each fishing trip includes all tackle, bait, and licenses. We provide a cooler, ice, and supplementary drinking water.  Bring whatever you wish to eat and drink otherwise.  Always bring sunscreen, sunglasses, and a hat.
Lightweight protective clothing, long sleeves and long pants, is ideal, and also protects from occasional bug bites if we get in close to Everglades shorelines in warmer months—no big deal, and if you prefer shorts, just bring a little bug spray.  I also have some on board.
Skin So Soft Expedition is benign and effective, Off Deep Woods works very well if you don't mind the ingredients.  We can also very easily avoid the bugs by fishing further from shore no matter what the time of year. In winter months, be sure to bring warm clothes like sweatshirts, track suits, insulated jackets, windbreakers.
It can be quite warm in the winter, but during a cold front the ride out to the grounds in the morning can be cool. Bring your own lightweight rain gear if you have it any time of year. If you forget, I have some on board you can wear. And don't forget your phone or camera!
Capt. Scott Bannerot
P.O. Box 880
Tavernier, FL 33070
Post Card Inn Marina
Backcountry Dock
84001 Overseas Highway
Islamorada, FL 33036